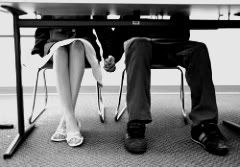 "Did you know when you dream about a person, that person went to sleep thinking of you? Did you know when the person you like looks at you and then looks down, they're crazy about you? Did you know that when a person looks at you directly in the eyes they love you more than you think? Did you know when that person looks at you alooot they can't live without you? Did you know when they leave, they say bye too much because they don't want to let you go?"
You confessed . Well . Sorry , I refuse to understand it .

Emm dear YOU.
Yeah true. Everyone makes mistakes. Mistakes are a part of life. If you make a mistake the most important thing is to learn from the mistake. If you don't learn from it then most likely you will make the same mistake again.But but. Having a crush or whatever it is between you and me is kinda BIG BIG BIG mistakes fer you. Try to accept the fact. Its not because I don't like you, but its just bcos I'd fell in love with our
friendship
. -and some of my personal reasons- Chill. Lets adore what's the real friendship means. Okay? :)
xoxo,
Icha - D.

PS : Icha sayang kawankawan . ^^